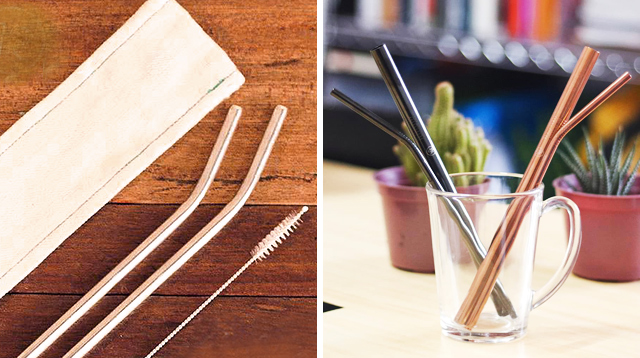 Even if you live under a rock, the planetary environmental shifts that are happening are hard not to see and sense. In the past five years, we have watched dependable climates become chaotic and piles of trash bubbling up from our hiding spots. The problem is so huge it is sometimes hard to remember what we can do to help, and how we can play our role in regaining some balance of the waste we create. Small goals work best to become functional habits. No longer using throw-away plastics can be one of those goals in which you become a part of the longer-term solution. The sooner we collectively cut down on our use of throwaway plastics, we not only shift the exterior planet but our internal culture.
Most of our unconscious habits are formed by our home environment, cultural norms, and societal pressures. Drinking out of plastic straws has been embedded into our subconscious habits. Culturally we are entertained by going out to eat, stuck in fears of the unsanitary, and addiction to convenience. Every child after breast or bottle is given a straw to learn how to drink and hydrate. There is a convenience to straws. They meet all our societal needs. They keep liquids contained while on the move and prevent spills. We easily pop into our favorite restaurant, coffee shop, and cafe and tap our plastic straws into our plastic cups without thought. Most stainless steel straws are a beautiful answer to a bad unconscious use of plastic.
Switching the habit from using straws is a huge shift that will take time and patience with the outside world, but you could substantially cut down on hundreds of pounds of plastic a year by avoiding throw away straws. First is the breaking of a habit in order to develop conscious habits. Stop requesting a straw and stop accepting plastic straws when offered. When you do this you start to understand that it's very easy to live life without straws. They are a product of convenience culture. This also allows you to see how prevalent straws are in everyday life, as well as why we're seeing so many straws show up in our oceans and waterways.
During this process, you might conclude that you really love using a straw and there are some habits too hard to cut cold turkey. Steel straws are the next step. You can find metal straws easily at any online store platform for just as much as a box of plastic straws. Keep them stored in your bag or purse for whenever you would normally encounter needing a straw. They are a healthier option because stainless steel does not give off any harmful chemicals like plastics can. They are easily washable and ready to use at any time.
Not only will you be an active agent in cleaning up your environmental impact, but you also will also influence those around you to think about and change their plastic habits. Changing habits is a process and it doesn't happen overnight. Get the tools you need to be successful and take the steps to be a part of the solution.